Performances have concluded. Thank you to all those who attended!
With Tony Nominee Kara Young*

as Viola
Richard Rodgers Amphitheater, Marcus Garvey Park, NYC
(enter at 124th Street & 5th Avenue, walk south to the venue)
Runtime: 105 minutes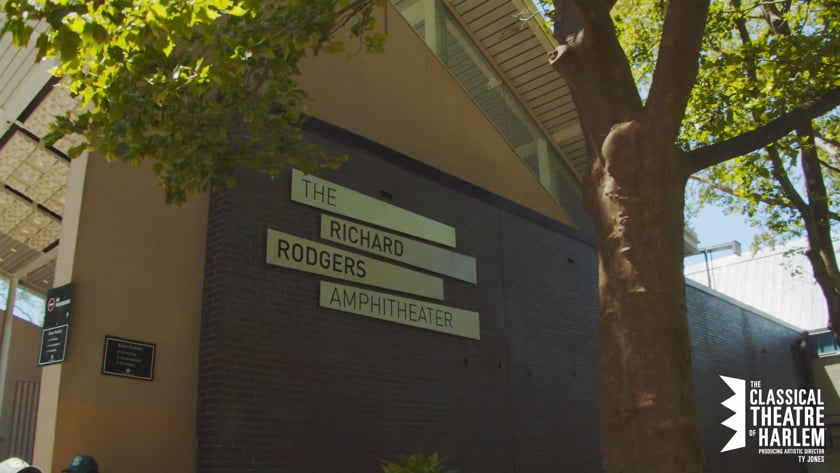 "THIS IS ONE OF THOSE PRODUCTIONS THAT MAKE YOU FEEL LUCKY TO BE IN NEW YORK"
- THE NEW YORK TIMES
"You have not seen a Viola like Young's fierce, funny, fully inhabited Viola. And if your nerves are as frayed as so many of ours are, you could do with the beautiful balm that is this show, working its magic beneath the summer sky as dusk turns to dark."
- THE NEW YORK TIMES
SYNOPSIS
In this hilarious Afrofuturistic take on the Shakespearean classic comedy of crossed lovers, Viola, long lost from her twin Sebastian, dresses as a boy and works under the Duke Orsino, whom she falls deeply in love with. However, Orsino is in love with the mourning Countess Olivia. Orsino sends Viola to court Olivia for him, but Olivia falls for Viola instead. Sebastian arrives, causing a torrent of mistaken identity, and marries Olivia. Viola then reveals her true identity and marries Orsino.
Jaylen Eashmond

Sea Captain, First Officer, understudy Sir Toby
Carson Elrod*

Sir Andrew Aguecheek
Brynlie Helmich+

Assistant Choreographer / Swing
Alexandria King*

Understudy Viola & Olivia
Anthony Lalor*

Ensemble, understudy Valentine, Sea Captain, Fabian, Antonio

Zoë Lishinsky

Understudy Maria
Collin McConnell

Ensemble, understudy Sir Andrew Aguecheek
Chivas Michael*

Sir Toby

Othello Pratt, Jr.*

Valentine, Servant, Ensemble, understudy Feste
Donathan Walters

Fabian, Sailor, Orsino understudy, Ensemble
*denotes member of Actors' Equity Association, the Union of professional Actors and Stage Managers in the United States.
+denotes member of EMERGE125.
Carl Cofield
Director
Tiffany Rea-Fisher
Choreographer
Rick Sordelet
Fight Director
Christian Kelly-Sordelet
Fight Director
Riw Rakkulchon
Scenic Designer
Mika Eubanks
Costume Designer
Alan C. Edwards
Lighting Designer
Frederick Kennedy
Composer & Sound Designer
Brittany Bland
Projection Designer
Samantha Shoffner
Properties Designer
Earon Nealey
Hair & Makeup Designer
Zavier Taylor
Animator
Sideeq Heard
Assistant Director
Brynlie Helmich
Assistant Choreographer
Allison Esannason
Assistant Costume Designer
Tye Hunt Fitzgerald
Associate Sound Designer
Jarod Castelblanco
Assistant Props Designer
Michael Early
Voice & Text Consultant
Molly Fitzmaurice
Dramaturg
Patrick Young
Dramaturg
Jessica Forella*
Production Stage Manager
Chris Steckel*
Stage Manager

Brianna Kolozsvary
Assistant Stage Manager
Kristen VanDerlyn
Production Assistant
Ty Jones
Producing Artistic Director
Michael Windham
General Manager
Harrison Corthell
Production Manager
Rebecca Schafer
Associate Production Manager
Maggie Benedict
COVID Safety Manager
Jesse Mattes
Production Carpenter
Jay Janicki
Rigger
Chris Simko
Production Electrician
Ryan Stofa
Associate Production Electrician
Alexander Freer
Moving Light Programmer
Kenneth Goodwin
Audio Engineer
Matt Covey
Audio Technician
David Fowler
Production Audio
Joey Moro
Projection Engineer
Paul Orama
Wardrobe Supervisor
Allison Esannason
Wardrobe Associate
Lasangra Aarons
Hair & Wardrobe Assistant
John White
Production Management Assistant
Kristen VanDerlyn
Production Assistant
Jared Coffin
New England Scenic
Paul Smith
Head of Security
Spencer Lombardo
House Manager
SUPPORT PROVIDED IN PART BY
NEW YORK STATE CITY COUNCIL